Today, Saturday before Easter 2020, everything is different in this pandemic year. In 'normal' years , I would be busy  touring with my guests , but this year , there are no guests from abroad !
I left early in the morning to take pictures in the bulb fields region. It is good to take new pictures every year for promotion and website purposes. During this Covid-19 crisis, you don't want to meet too many people in the fields of course, so early in the morning is the best time to take pictures and besides that, the light is wright to take the best photographs. I spotted  some nice, large bulb fields with Hyacinths near Schiphol Amsterdam Airport. The fragrance of the Hyacinths is overwhelming, especially the blue fields are the most fragrant !
It's a pity that there is still no "fragrance-transmission" possible with sending pictures to other people, which would be really nice with the Hyacinths fields picture below, taken in a previous year !
After that, I drove to the 'bulb fields region' with towns like Lisse,  Hillegom and Sassenheim. In this region, bulb growing started some 400 years ago. This is a coastal region with lots of sandy soils in which bulbs grow well. The colors of the fields are very impressive and I hope to show the colored bulb fields to my guests next year again. it's a strange feeling, that everything is different this season ! Of course , the fields are still there , but very few people visit them , also because the authorities advise people to stay home and prevent spreading the virus !
Hopefully this crisis will not last forever!  While I take my pictures of the colored fields, I think of how this day would be like, if I had guests with me today…………………….

Every tour day, from the moment that I meet my guests in their hotel, it is my goal to organize a cozy and memorable day for them. Preferably we start with visiting the flowering bulb fields and take lots of pictures……..
Most people have seen pictures of the flowering fields and have an idea of what to expect………, but still they are always surprised that in reality , it is so much more beautiful than they had imagined in advance !
I enjoy the amazement on their faces every time. I usually ask them for their camera/phone, so that I can take pictures of them in between the fields, so that when they return home, they can still enjoy the sights and think of what they experienced during their tour day . In Spring it is usually nice, dry weather, so you can take great pictures.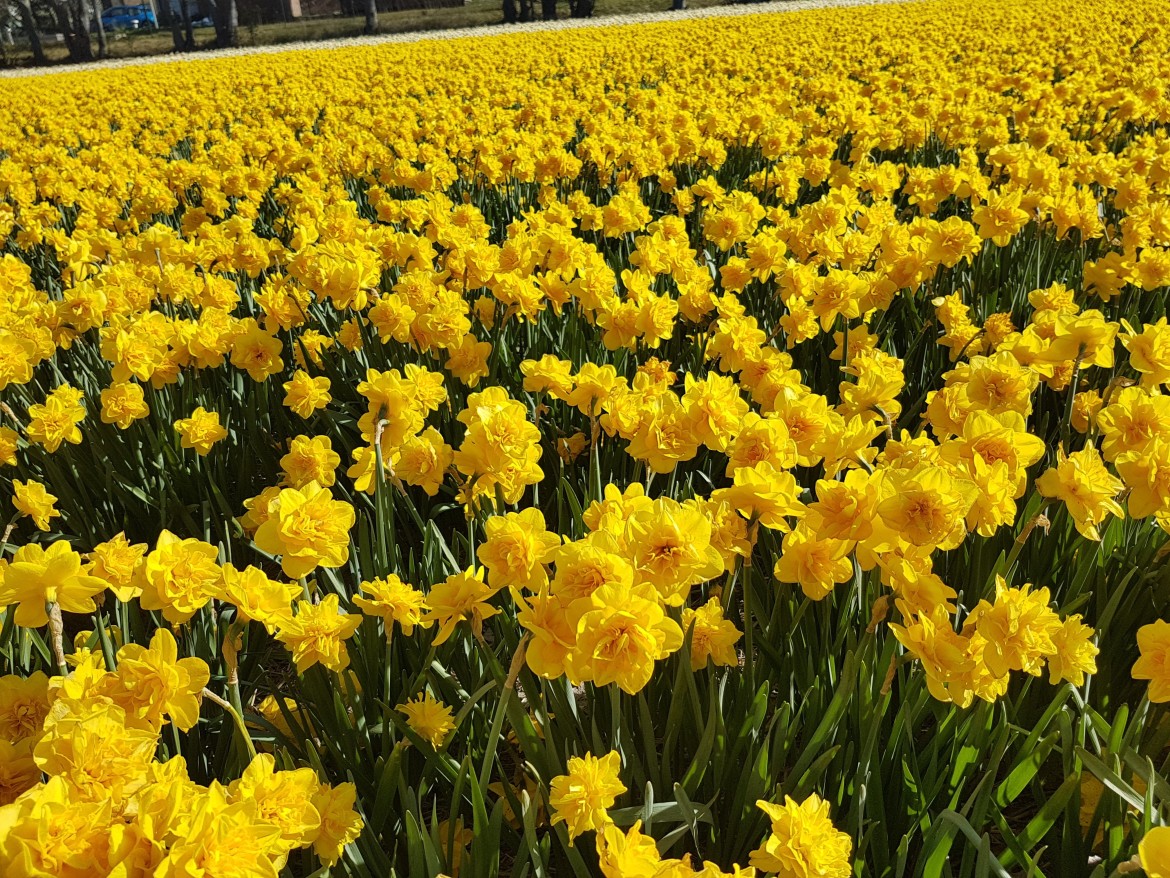 After the fields we can visit a bulb farm and get explained all the backgrounds of hybridizing , propagation and growing bulbs and then ………..time for lunch in my favorite restaurant 'Tespelduyn' at the regional golf resort! 
After lunch , on to Keukenhof and stroll through the park for several hours !……………..BUT NOT THIS YEAR !
Very unfortunate and especially terrible for all the gardeners (35-40 professionals) who have worked hard to make the park that beautiful and create all the magic every year . It's just the way it is this year , next year it will undoubtedly be very nice again.  In Keukenhof you can really walk for hours, there is so much to see and it is  wonderful that it is all different every year. It seems as if it gets even more beautiful every year, which is actually almost impossible. It always feels like an honor to me, to show it to my guests. It gives me energy ,to show my guests all this beauty ! It is actually a great profession to show my guests all the beauty and in the meantime enjoy everything myself as well ! I always adapt to the pace of my guests. After all, they are not here for work, but to enjoy.
After Keukenhof , everybody is happy and tired , so then on to the hotel to relax a little !
Hope you enjoyed my pre-Easter story !
Peter Boers.