Catch the gardening virus at Appeltern Gardens                                     
 Appeltern Gardens is a park for real gardening enthusiasts! At Appeltern Gardens you can admire many different show gardens and get inspired for your own at-home garden design. The garden park can be found in the region between the Waal and Maas rivers, in the town of Appeltern in the Netherlands (Holland).
The park covers a large area of land, the park is 23 hectares/57 acres in size and there are now more than 200 different inspiration gardens to view. A visit to these gardens is a unique experience. Appeltern's gardens change every day, new ones are created, new products are added and different plants are used every day.
To visit Appeltern Gardens, Flower Tours Holland offers two different tours to this park. Both Tour 24 and Tour 25 include a visit to Appeltern Gardens.
The Appeltern Garden virus and how it started

Appeltern has been around for more than 35 years! The first garden in Appeltern was designed by founder Ben van Ooijen, a professional gardener. He designed this first garden around his own house. To attract new customers for his gardening business, Ben designed several demonstration gardens. Ben asked several wholesalers for permission to use their products in his new show gardens. One of the products that were very characteristic of Ben's gardens was the use of the typical "Dutch brick". You will recognize this style when you walk through Appeltern Gardens!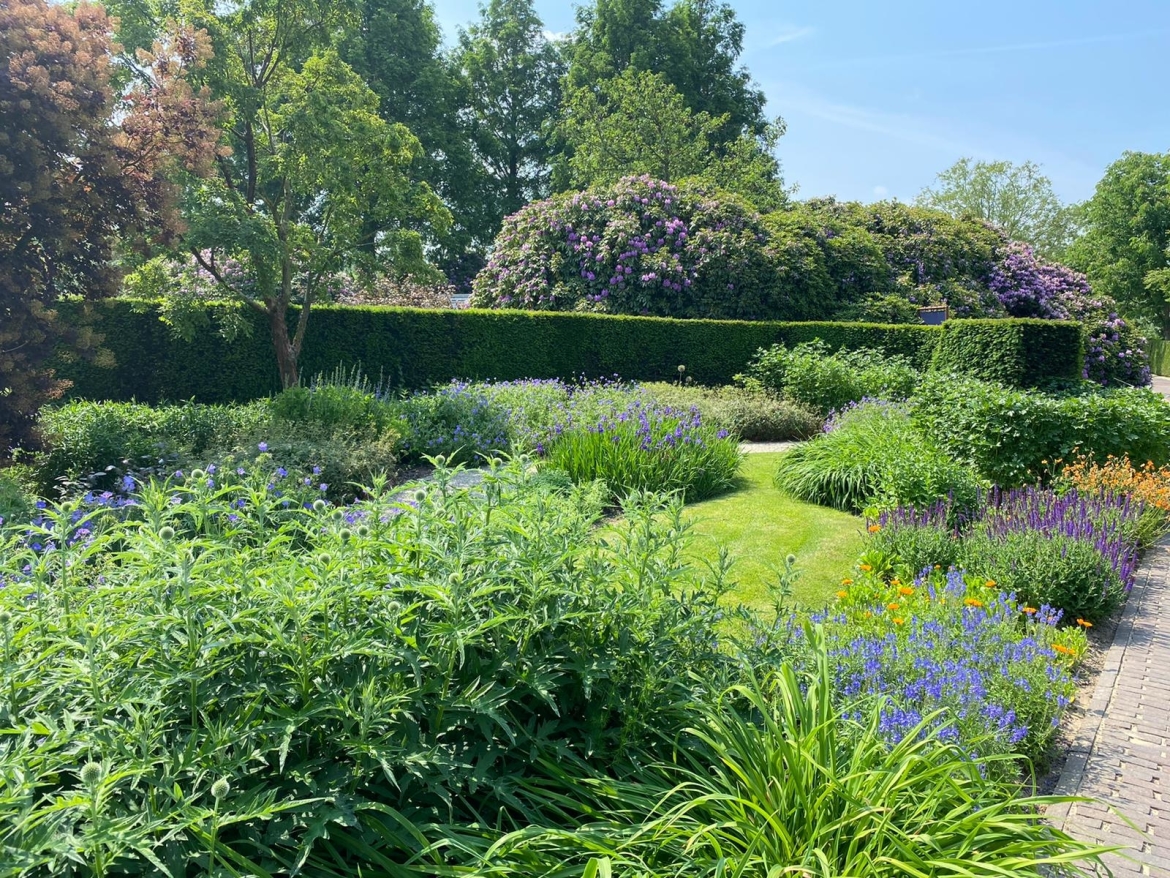 What is there to see at Appeltern Gardens?

If you visit the park nowadays, the park has a completely different look than 35 years ago. Nowadays a growing number of gardens and architects are working on the design of new gardens, but if you walk through the park, you will definitely recognize Ben's style. There's a hint from the past in every garden, it doesn't matter if you're interested in the traditional gardening style or something more modern. Both young and old will feel Ben's gardening virus during the visit! Many different themes can be found in the gardens. The "Living Garden" is worth a visit. Sustainability is central to this garden. During the walking tour through the park, you can also take a break from all the impressions at the lounge gardens. If you're inspired by one of the gardens and want to re-do your own garden at home, there is an option to buy plants that are used in the inspiration gardens. The plant market in Appeltern Gardens has different plant species in different sizes and colors during all seasons.
You can take a look at this video here
Book a tour to Appeltern Gardens with Flower Tours Holland

Do you want to visit Appeltern inspiration gardens as well? Then book your private tour with Flower Tours Holland!
If you choose tour 24 or 25, you can visit Appeltern in spring, summer and fall. In winter, the park is closed for a few months. If you opt for Tour 24, the 'Rivers and Gardens of Amsterdam' tour, we will drive by river Amstel and river Vecht. After a delicious lunch in the Historic town of Breukelen (Brooklyn, New York was named after this town), we will drive to Appeltern Gardens. If you can't wait to visit Appeltern, choose Tour 25.
With Tour 25, we will visit Appeltern Gardens first, then have lunch in historic town Breukelen. After lunch we will visit the most beautiful castle in Holland, 'Castle De Haar' and the extensive gardens of this castle. With these two tours you will have a wonderful experience of real Dutch gardens. Discover the garden virus and gather inspiration for your own garden at home!