Peonies -The perfect Mother's Day flower
May 8th, 2022 means it's Mother's day in most countries! Peonies are favorites for Mother's Day. When we think about Peonies, the first thing to come to mind is the wonderful smell and beautiful colors. But why should you send Peonies for Mother's Day?
We, from Flower Tours Holland, are happy to explain it to you…
The Peony is a true female's flower, that's why they're a great choice for Mother's Day.  This year, Mother's Day is on May 8th, the best time for peonies to bloom. Peonies flower in late spring and early summer, making them an especially cheerful and homey flower that captures the essence of the season. The fun thing about Peonies is their huge range of colors and shapes. For example, with double or single flowers, or try combining different colors together like pink and white.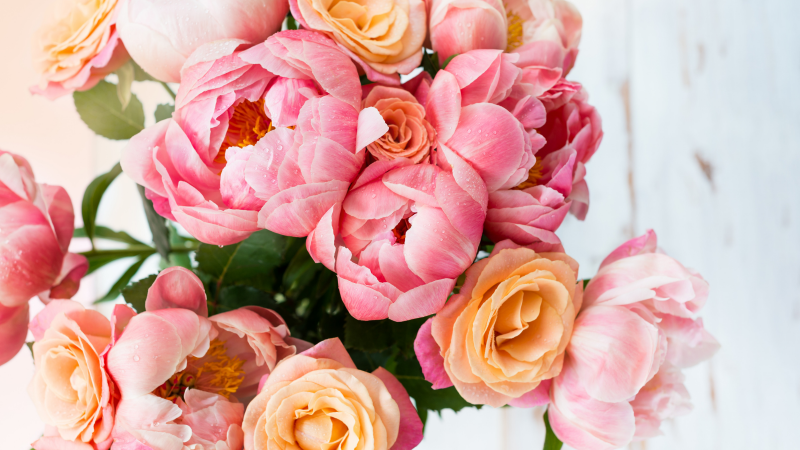 The meaning of the many colors of the Peonies
When experimenting with different colors of Peonies, you should keep the meaning of colors in mind. For example, orange means happiness and warmth, perfect to give for someone's birthday. But when gifting these flowers on Mother's Day, you should choose the pink ones for a bright and bold brilliance.
Origin of the Peony
In many different cultures, Peonies are traditionally associated with beauty and royalty. In fact, in China, the Peony is often referred to as the "Queen of Flowers". Peonies originate from China and came to Europe around  1780. In China, the flowers were grown mainly for their roots. These were thought to have a fever-reducing and blood-strengthening effect. Nowadays it is no longer advisable to eat the roots of the cultivated Peony.
Tip for true fans!
If you want to learn more about the growing process of the Peony, you might be interested in one of our tours. A true fan of Peonies should pick Tour 18.
On this tour, you start off with a visit to the flower auction in Aalsmeer. The auction is divided into two separate sections, namely plants and cut flowers.
During this tour, you'll visit the cut flower section and the cold storage where cut flower Peonies are stored the night before the next auction day. After the auction, you'll visit a wholesale center. But the best is yet to come… When booking tour 18, you'll also visit the annual Peony flower show with over 125 varieties! You'll also pay visits to Peony breeders and cut flower growers.
Taking care of Peonies
An unprecedented side of the peony is its variability. Whether in your garden or in a large vase, these flowers are beautiful!
Do you want or do you have peonies in your garden? Peonies love a sunny spot! You can plant them in a pot as well as in a border.
If you want more information about this, read this article.
The Peony is also beautiful in a vase. Cut the peony at an angle of 2 to 5 cm and remove the leaves at the bottom of the stem. Give your Peonies room to bloom, so never put too many in a vase. In this way, you can enjoy them for a long time!